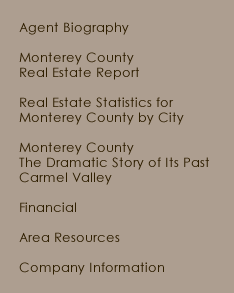 Eric Sand is from a fifth generation family of the Monterey Peninsula and his family have been licensed realtors for four generations in Carmel Valley and Monterey.

Eric spent his early years of life in Carmel, California. As Eric's father was a career diplomat, the family moved to Washington D.C. but also spent many years residing overseas. Eric lived in Taipei, Taiwan and later in Athens, Greece. He and his brothers attended their High School years at the American Academy in Athens.

Eric continued his education at Monterey Peninsula College and then transferred to the University of California at Los Angeles to major in computer science. Eric's career in computer science ranged from programming, systems analysis, to Department Head. As a software engineer for Hewlett-Packard in Palo Alto, he developed excellent written and oral communication skills in time-intensive situations. A position with the Naval Postgraduate School allowed Eric and his family to return to their beloved Monterey. Eric was the first Director of Management Information Systems at the Monterey County Office of Education, co-coordinating the installation of new software that handled all financial transactions. This position required excellent management, communication, and people skills, as well as technical talent.

Eric's expertise lies in understanding people's concerns in complex situations and also in his well-honed communication skills. He also has the energy and vision needed to create successful conclusions for all real estate transactions.

Eric's five sons are Kevin, Ryan, David, Christopher and Taylor, the latter three are triplets. Eric enjoys playing basketball and is passionate about hiking in the Ventana Wilderness and preserving the culture and history of the Monterey History. He has been involved with the Monterey History and Art Association (MHAA) since 1985 including serving on the Board of Directors and Executive Committee as Secretary and is a past President. He is also acting as Co-Chair of the MHAA LA Merienda Event, which celebrates the City of Monterey's birthday, held the first Saturday of every June. Eric also serves on the Carmel Valley Association Board of Directors and is very active in efforts to preserve Carmel Valley's rural character. Eric is also the Fund Raising Chairman of the Carmel Valley Save Open Space 501©(3) organization that is dedicated to preserving the 30 acre decommissioned airport property in the Carmel Valley Village as a staging area for Cal-Fire fire protection efforts and community uses.

Eric will be there for you during the real estate process and afterwards.